Description
The annual output is 1000tons each year. As an exclusive agent of Ming Green, it's all in our control. We have large number of inventory slabs and blocks in stock for your choice. Slabs more than 1000m2 available, blocks more than 1000tons available. Welcome any customization from you.
Ming Green is suitable for using in floor and interior /exterior wall, Counter top, sink, step, mosaic ect.
It can be processed in polished, honed, leathered finish. Other finishes may be applicable under request.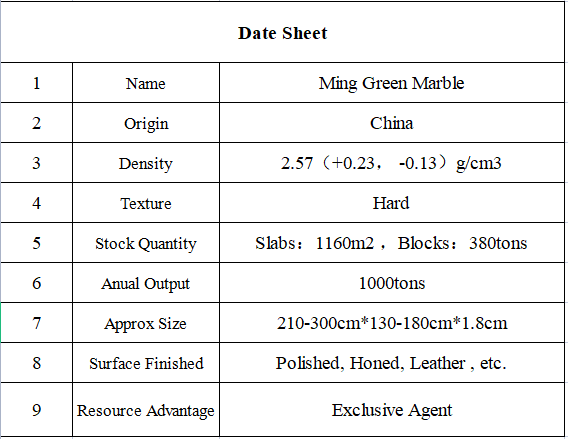 Q&A
1. Where is Ming Green being quarried? How is the quality?
- Ming Verde is quarried in the northeast part of China.
The quarry output is small at around 1500tons, only at around 400 tons are good quality.
We have stock both A (unfiorm veins and no crack) and B (veins with little yellow lines and small crack lines visible, but processing is good) quality.
2. Which grade is the variation of Ming Verde?
- If 1 for small variation and 4 for big variation, Ming Verde is 2.
3. Is it suitable for shower?
- We would recommend using it on shower wall. On shower floor, in mosaic formats only.
4. Is it suitable for exterior floor or wall?
- On exterior wall yes, including freeze thaw. On exterior floor not.
5. Can it be used as countertop and what is the maximum size?
- Yes, it's a perfect material for countertop. The maximum size can as long as 3000mm.
6. Is there any installation instructions for Ming Verde?
- Alternate mortar.
- Mapei Ultraflex 2 or Mapei Kerabond w/Keralastic Additive 2.
Alternate grout - Mapei Keracolor Unsanded or Mapei Ultracolor Plus FA Installation Instructions: For field tile use TCNA Handbook, for slab use MIA DSDM.